Things to do during your stay at Bearnock
INVERNESS
Capital of the Scottish Highlands, Inverness is a fascinating city, steeped in history and just newly awarded city status in 2000. Its location on the banks of the River Ness makes for a superb views, especially looking across the bridges to Inverness Castle. You should take the opportunity to walk along the path by the river as not only is it peaceful, but a great way to see part of Inverness without getting lost!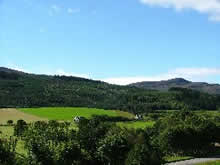 Inverness is well known for floral displays the best of which might be at Bucht Park in The Floral Hall - well worth a visit. The public displays have won awards for many years.
The city's restaurants offer an opportunity to sample Highland cuisine at its best as Inverness has access to Aberdeen Angus beef, salmon, venison, seafood, the freshest vegetables and dairy products, all sourced within minutes of Inverness.
If you would like a night out there is always something on; try Eden Court Theatre and Cinema or one of the local events listed in the local paper: The Inverness Courier, published Tuesdays and Fridays.
Further information can be obtained from the Inverness Tourist Information Centre, Bridge Street. There is also internet access here.
Newly refurbished Inverness Museum and Art Gallery has exhibitions on Neolithic Stones, Watches, Highland Gold and SIlver, Fossils, Trade & Industry, Entertainment and Weapons. There is of course also a special feature on Inverness the burgh and city including a photo archive . The Inverness Museum has recently been awarded Accredited Status. They are open all year and are on Castle Wynd at the low end of Church St.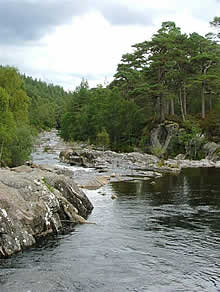 Eden Court Theatre and entertainment complex has just had a superb refurbishment making it one of the top theatres in Scotland. They have a top class programme of events throughout the year.
If you would like to watch sport: Caley Thistle (Caledonian Thistle) are a first class Premier Division Football team. There are also no less that three golf clubs in the area.
Outdoor pursuits are also well catered for with clothing, fishing rods and hunting equipment readily available.
Highland souvenirs such as Tartan goods, Whisky, Bagpipes, Smoked Salmon etc are all available in and around Inverness.
LOCH NESS MONSTER
This beautiful loch is one of the deepest in Scotland and home to the legendary Loch Ness Monster or Nessie. Opinions on the existence of the monster vary, however truthful locals have seen the monster and reports from differing sources all describe a long creature of immense size with a long neck and fat body. Nessie is most often seen in the water and not on dry land so actual shape is difficult to state with any certainty. The nearest creature would be the prehistoric plesiosaur... although it should be noted that this is just what Nessie resembles, not what it actually is!
The monster(s) were first spotted in the 7th century and regular reports on a creature in Loch Ness have persisted ever since. Loch ness is one of three lochs that split Scotland in two in a fault line known as The Great Glen. The fault is very old and dates back to the Mid Devonian period 400 million years ago. The loch is around 740 feet deep with thick layer of sediment on the bottom (some 25 feet) preventing actual measurements in some parts ... and a place for Nessie to remain undisturbed.
In any event most cars, bikers or walkers, even locals, keep a weather eye on the loch in case they spot a dark shape on the surface that could be The Loch Ness Monster.
LOCH NESS
Loch Ness is one of Scotland biggest and most beautiful lochs with Inverness at one end and Fort Augustus at the other. Between is some of the world's most breathtaking scenery; winter or summer! Half way along Loch Ness is Drumnadrochit where Bearnock Country Cottages are situated and of course the world famousUrquhart Castle (pronounced urkart ). The castle is the most popular visitor destination in the Highlands of Scotland, and rightly so. Visitors staying at Bearnock should take the opportunity to visit at least once during their stay to go round the Urquhart Castle and the award winning Visitor Centre located adjacent to the castle.